"magnificent tannins", the Domaine's La Louve vintage commented in the press, in the daily Le Monde.
Laure Gasparotto and Ophélie Neiman are wine journalists for the newspaper Le Monde. They selected our Morgon Les Charmes La Louve 2017 vintage. The tasting was organized blind, and only oriented on the Beaujolais wines of the 2017 vintage. Article published in the March 2019 Wine month Supplement.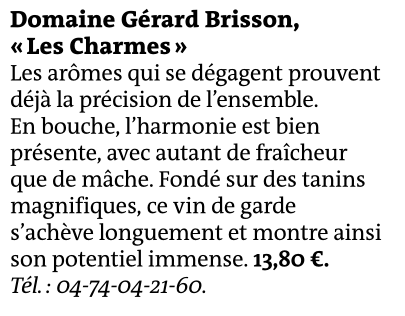 The 2017 vintage of the La Louve cuvée, in the Morgon Les Charmes appellation, is appreciated for its great harmony and its great capacity for aging.
The two women journalists selected 40 wines blind, among the 150 vintages that were proposed to them for tasting. For this article presenting the wines of Beaujolais, the Gamay grape is honored. Indeed, the wines of the Beaujolais crus are made from a single grape variety: Gamay. The great diversity of the wines testifies to the richness and complexity of the grape variety and the extraordinary diversity of the terroirs in Beaujolais.